US equity markets are likely to remain during the coming week as investors continue to focus on Omicron, the which seems to be spreading quickly, forcing many governments to restrict travel from some African countries where it was first detected.
US stocks dropped sharply on Friday as the new COVID variant reminded investors that threats from the deadly pandemic are still alive, even after widespread vaccinations and improvements in therapies. 
The dropped 2.53% on Friday—its worst day of the year. The lost 2.27%, while the closed -2.23%. While it's too early to predict the economic and policy implications from this new COVID variant, uncertainty over its future path may continue to force investors to seek safety and sell risky assets. 
Aside from the virus-related developments, investors will also be watching some important earnings releases. Here are three we're following:
1. Salesforce.com
Salesforce.com (NYSE:), which sells enterprise software and cloud-based services for customer relationship management to corporate clients, will be reporting its quarterly earnings on Tuesday, Nov. 30, after the market closes. The software provider is forecast to report $6.8 billion in revenue and $0.92 of earnings per share.
In August, the San-Francisco-based company posted a strong gain in and boosted its forecast for annual revenue, as clients accelerated spending. CRM also broadened its offerings, added after an array of acquisitions, such as data-visualization software maker Tableau, and MuleSoft, which connects applications.
This past summer, Salesforce completed the acquisition of Slack Technologies for $27.7 billion, a deal meant to fuel sales growth of more than 25% a year. Closing at $284.21 on Friday, Salesforce stock is up 27% this year, outperforming the tech-heavy NASDAQ Index.
2. Kroger
Supermarket behemoth, Kroger (NYSE:) will report its Q3, 2021 earnings on Thursday, Dec. 2, before the market opens. Analysts are expecting $0.66 a share profit on sales of $31.14 billion.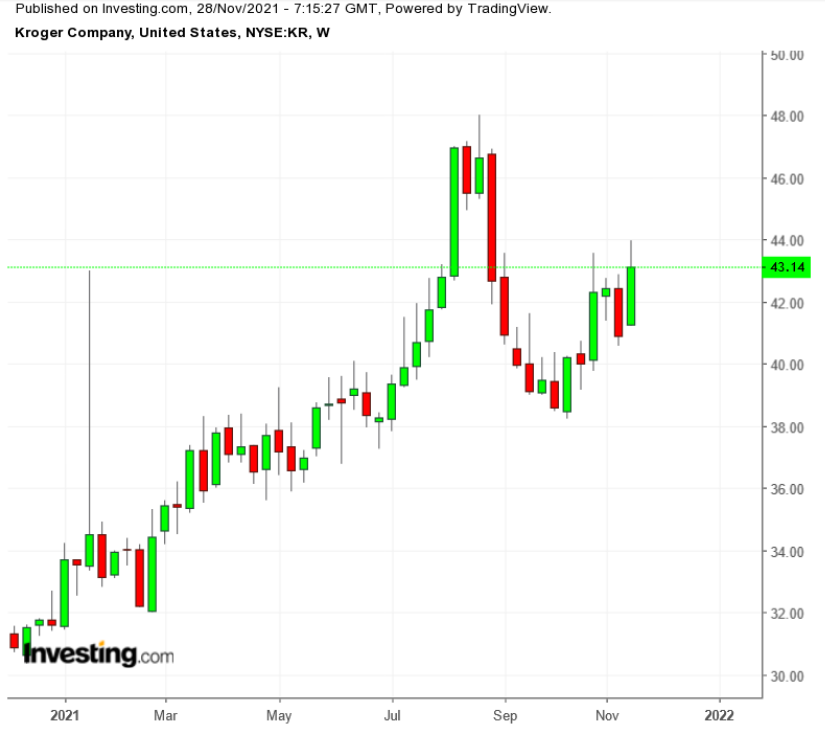 The Cincinnati-based grocery chain continues to benefit from some pandemic-era behaviors that are sticking, including additional consumption of fresh products, such as meat, which are higher-margin categories. But the latest earnings report should also provide some insight into how the grocer is coping with higher inflation, supply disruptions and workers' shortages.
Kroger's stock has gained 36% this year on the food purveyor's and its participation in the US vaccination campaign against COVID-19.
The company has delivered millions of vaccinations to people nationwide, creating more repeat customers for its pharmacies and supermarket offerings. Kroger generated record sales of $132.5 billion in the year ended Jan. 30.
3. Snowflake
The cloud-data software maker Snowflake (NYSE:) will report its fiscal 2022, Q3 earnings on Wednesday, Dec. 1, after the market closes. Analysts expect $305 million in sales and a loss of $0.0567 per share.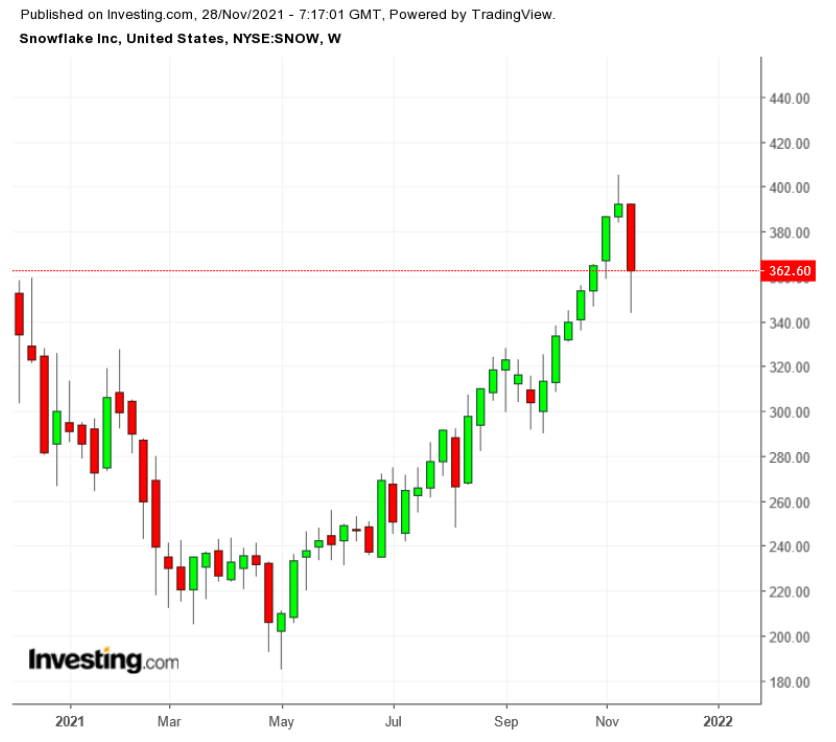 At the end of August, Snowflake delivered and a rosy forecast for the Q3 as it benefited from companies modernizing their corporate applications and networks. Customers are also seeking ways to manage and analyze ever-increasing volumes of information from multiple locations. 
Snowflake is facing less of a threat from rival Amazon's (NASDAQ:) Web Services product called Redshift, according to a UBS AG report cited by Bloomberg. At its analyst day in June, Snowflake said it was aiming for $10 billion in sales by fiscal 2029. Analysts expect annual sales to top $1 billion in the current fiscal year, 2022. 
SNOW shares closed on Friday at $362.60, after their 30% surge this year.