America's favorite breakfast staple has fallen into a bear market, with the close of the North Atlantic hurricane season sparing orange groves from damage that could result in a bumper crop.
There's another reason for the 20% plunge in futures of (FOCJ), over the past six weeks: fewer COVID-related health scares. 
The juice market's correlation with the rise and fall of the pandemic is unmistakable. At the height of the virus' outbreak between March and June 2020, FCOJ surged a net 25% as people consumed more orange juice and other nutritional food to try and stay healthy. In July this year, when caseloads from the Delta variant spiked, FCOJ jumped once more, by more than 12%. Now, as infections have fallen dramatically since the end of August, demand for juice appears to have fallen again.
The other factor—the impact of hurricanes on the crop—is, of course, more direct and historical. Top orange grower, Florida, is among US states constantly under the threat of storm damage during each North Atlantic hurricane season. 
All charts courtesy of skcharting.com 
Jack Scoville, chief crop analyst at Chicago brokerage Price Futures Group, said in a commentary posted on Monday:
"Florida is in the latter stages of the hurricane season but the storms have missed the state so far and crop conditions are good." 

"The chances for a damaging storm to hit the state of Florida are dropping by the day." 
Weather in other citrus growing countries was also good, adding to the surplus in world production, said Scoville.
Brazil, the No.1 citrus grower, has some rain in its forecast and flowering might be possible in the next couple of weeks.
In Mexico, crop conditions in the central and southern areas of the country also had good rains, though dry weather earlier may have hurt production. In Mexico's northeast, some dry patches had also gotten sufficient rain in recent weeks, while the north and west were rated to have good moisture as well.  
With storm threats out of the way, Florida's weather was mostly good for crops, from a recurrence of scattered showers and near-normal temperatures.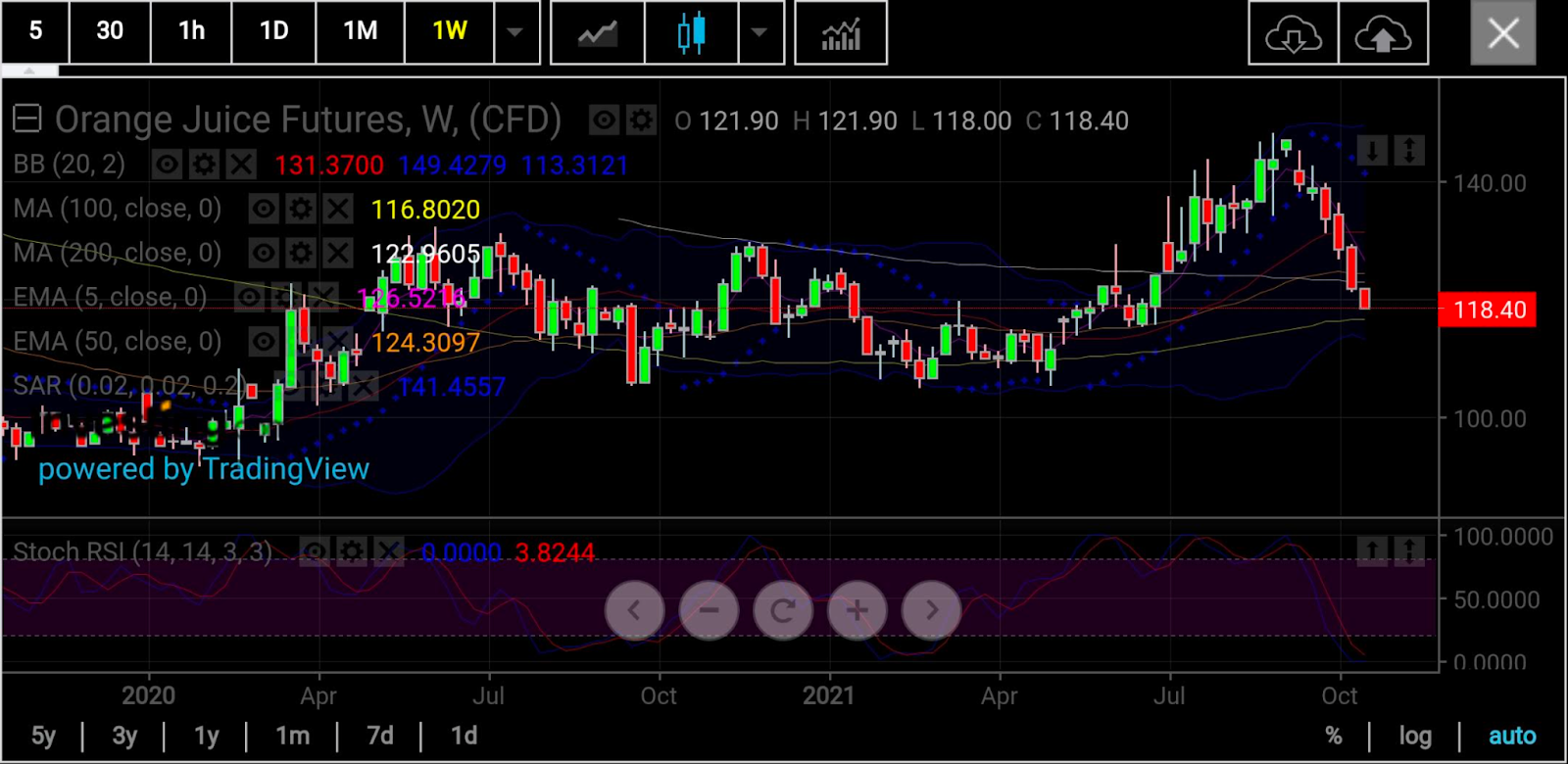 So where will that leave FCOJ futures? 
At Monday's trade, the spot juice futures contract settled in New York trade at $1.1840 a lb, down almost 29 cents, or 20%, from its end-September close of $1.4710. 
Extending its bearish streak, it could go as low as $1.03—a level last seen in April 2020 before possibly rebounding with force due to oversold conditions, said Sunil Kumar Dixit, chief technical strategist at skcharting.com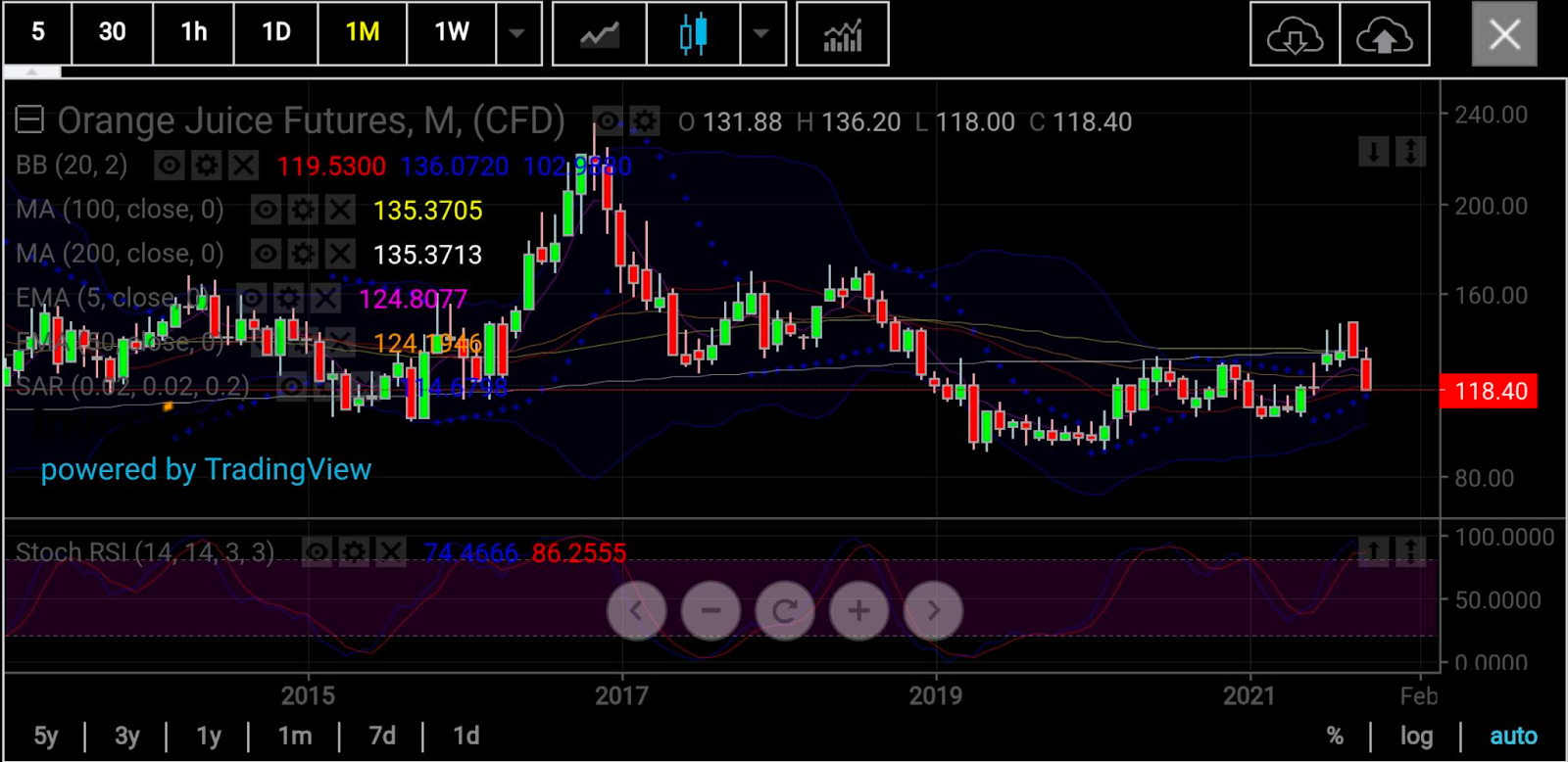 "The monthly chart for OJ is bearish over the long term as the Stochastic Relative Strength Index signal line (blue) has crossed over negatively below the slow stochastic line (red) and reading 74/86, with substantial downside over long term reaching as low as $1.03," said Dixit. 
The weekly chart is bearish as well, with an oversold picture from a Stochastic RSI reading of 0.0/3.8 hinting at a short term bounce back from the 100-week Simple Moving Average of $1.1680. In the event of a bounceback, the potential retracement could take it to the 200-week SMA of $1.2296 and the 50-week Exponential Moving Average of $1.2430, he said.
"There's a high probability of an OJ price accumulation if it tests the $1.16-$1.17 area and gains energy for a bounceback," added Dixit.
Disclaimer: Barani Krishnan uses a range of views outside his own to bring diversity to his analysis of any market. For neutrality, he sometimes presents contrarian views and market variables. He does not hold a position in the commodities and securities he writes about.