For investors in the Robinhood Markets (NASDAQ:) IPO, it's been quite a wild ride since the company went public at the end of July. Shares of the financial services platform provider have been volatile, fueled by retail investors.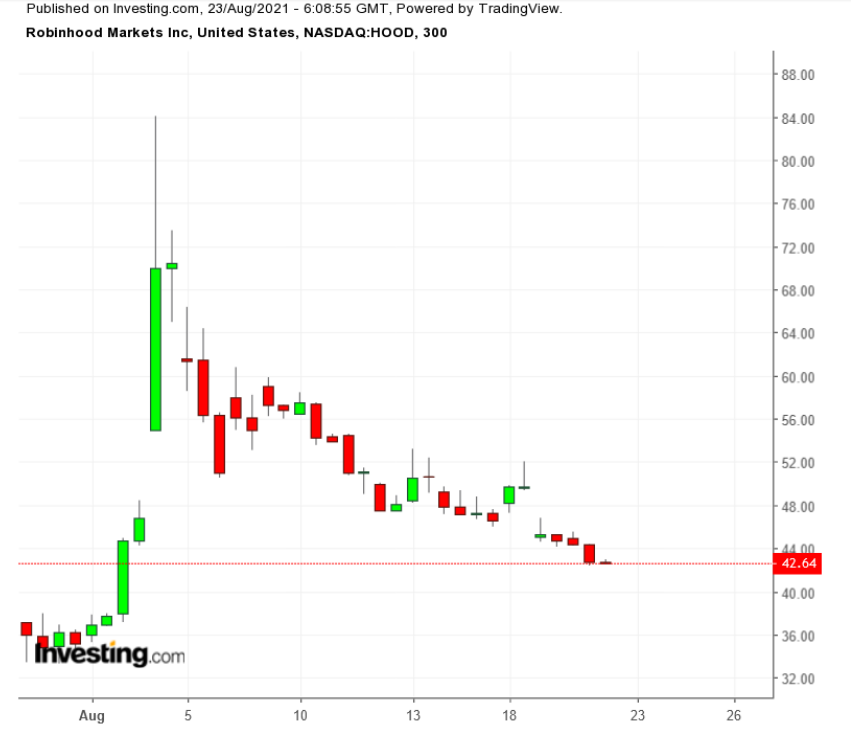 After more than doubling within the first 10 days of its listing, the stock has given up much of its upside moves on signs the Menlo Park, California-based company's fundamentals don't support the rally. Robinhood, which revolutionized trading in markets with its easy-to-use, no-fee based platform during the pandemic, closed on Friday at $42.64, losing about half of its value from its Aug. 4 all-time high of $85 a share.
After a swing of this magnitude, HOOD may look attractive to many investors, but we advise caution after reading the company's latest , released on Aug. 18. In its first earnings report as a publicly traded company, the brokerage said last week revenue in the second-quarter more than doubled to $565 million when compared with the same period a year ago.
But that impressive performance doesn't tell the full story. A significant portion of that top-line number is coming from trading in (DOGE), a cryptocurrency that originated as . Robinhood executives didn't single out Dogecoin on the earnings call on Thursday, but they refrained from offering a revenue forecast because there's so much uncertainty in that business.
"We've experienced volatility from period to period that makes it difficult to accurately predict results in the short term," Jason Warnick, Robinhood's CFO, said on the call, according to CNBC.com.
"For Q3, we expect seasonal headwinds and lower trading activity across the industry to result in lower revenues and considerably fewer new funded accounts than we saw in Q2."
Revenue Uncertainty 
Crypto trading revenue totaled $233 million in the second quarter, up 4,560% from a year earlier, underscoring how the ever-shifting preferences of retail traders play a crucial role in how much revenue the firm generates. That figure exceeded revenue from stock and options trading combined. Dogecoin accounted for 62% of crypto revenue in the period.
The company's too heavy reliance on this highly volatile segment of the market shows that Robinhood has a long way to go before it can put itself on a truly solid growth path. That's the main reason some analysts are advising investors to stay away from this name despite the app's popularity with retail investors.
Wolfe Research, while cutting its price target on Robinhood to $41 from $45, said in a post earnings note that the third-quarter slowdown on Dogecoin trading could be "much more acute than many investors were anticipating." 
Its note added:
"HOOD's growth within Crypto is nothing short of remarkable, but the outsized contribution from DOGE simply cannot be ignored."
Regulatory Risk
Besides the potential vulnerability associated with DOGE exposure, there are other risks to Robinhood's revenue model as well that long-term investors should keep in mind if they're interested in this stock.
Robinhood is on a collision course with regulators over a controversial practice that generates most of its revenue. HOOD disclosed that 81% of its first-quarter revenue came from sending its customers' orders on stocks, options and cryptocurrencies to high-speed trading firms—a practice known as payment for order flow. 
Securities and Exchange Commission Chairman Gary Gensler said in June that the SEC was reviewing payment for order flow, fueling speculation that the practice could be banned.
Robinhood's funded accounts reached 22.5 million customers as of June 30, compared with about 9.8 million a year earlier, according to its earnings report. This surge, no doubt, shows Robinhood's popularity among retail investors who flocked to its app to push meme stocks, like GameStop (NYSE:) and AMC Entertainment (NYSE:), higher and inflict pain on short sellers betting against the stocks.
But since its IPO, ironically, Robinhood itself has become a meme stock. Mentions of the stock have skyrocketed in online forums like Reddit's WallStreetBets, showing huge speculative interest in the stock. That's another no-go area, in our view, for long-term investors.
Bottom Line
Robinhood's latest earnings show the company's sales can be very volatile, given its huge reliance on crypto trading. In addition, there is a big regulatory risk hovering which makes its revenue stream yet . Long-term investors, in our view, should stay away from this stock.